Moksha Bybee & Liger Cubs
Moksha Bybee is raising liger cubs, since early 2000s in United States. Ligers are very rare and spotting a liger cub is even more rare, whereas; Moksha Bybee is one of the very few animal trainers to have this accolade of raising and caring liger cubs by herself. Moksha Bybee works at Myrtle Beach Safari, in South Carolina, USA. This animal safari park is already famous for the ligers, liger cubs and other exotic animals. You can even cuddle a big cat (including a liger cub) at this exotic animal safari. Moksha Bybee has been part of Myrtle Beach Safari for more than 17 years now and during this time she has raised a lot of liger cubs and other big cat cubs.
f-Share
Tweet
Linkedin
Google+
Pinterest
VK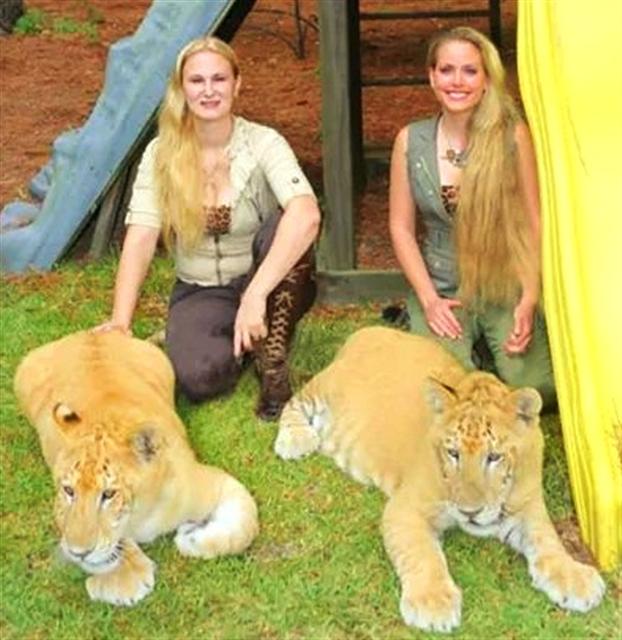 The very first liger cub which Moksha Bybee raised was Aries the liger cub. This liger cub (Aries) was born during 2010. His father was famous lion named as, Arthur the lion (This lion has appeared in dozens of TV commercials) and a female Siberian Tigress. Moksha Bybee had a joint photograph of this liger cub (Aries) with the world's famous and biggest liger, Hercules the liger. It is a lot worthy to mention here that both Aries the liger cub and Hercules the liger are both brothers. These ligers were born to the same father lion i.e., Arthur the lion. In a very famous picture Moksha Bybee even held Aries the liger cub on the back of Hercules the liger. As of 2016; Aries the liger is 6 years old, a fully mature male liger and all credit goes to Moksha Bybee to raise him up.
f-Share
Tweet
Linkedin
Google+
Pinterest
VK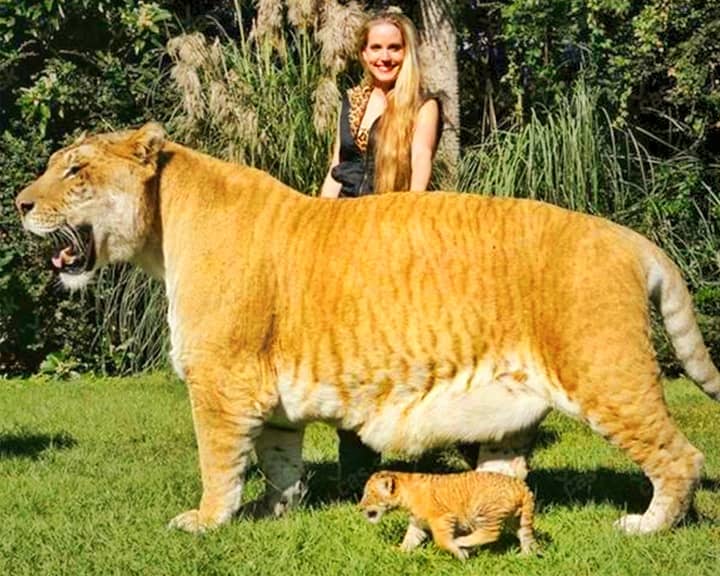 On second occasion, Moksha Bybee appeared with even further rarest ligers i.e., the white liger cubs in 2014. Today; these white liger cubs are adolescent ligers and Moksha Bybee holds a huge credit for raising these special white liger cubs. White liger cubs are born to a male white lion and a female white tigress. These white liger cubs were also born at Myrtle Beach Safari, in South Carolina, USA in 2013. A litter of four liger cubs was born at that time. Moksha Bybee along with her team took care of these white liger cubs. Remember white liger cubs are not necessarily white like white lion cubs and white tiger cubs but their fur is still lighter in color with stripes on them.
f-Share
Tweet
Linkedin
Google+
Pinterest
VK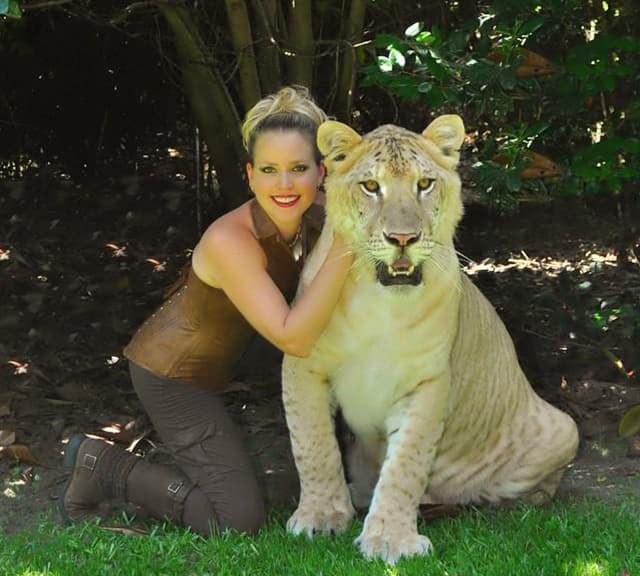 Moksha Bybee always maintains a close interaction with liger cubs. Moksha Bybee loves to play and enjoy her time with the liger cubs. You can always watch her loving and cuddling with liger cubs in a lot of photographs. She feeds them on regular basis and on many occasions. She can be seen feeding liger cubs with a milk bottle as well. Moreover; you can even watch her swimming with liger cubs and other big cats' cubs inside the swimming pool as well. The swimming pool has one transparent depth end which allows visitors to watch Moksha Bybee Swimming and diving underneath the water along with the liger cubs. Remember liger cubs love to swim, therefore; swimming is regular part of their training.
f-Share
Tweet
Linkedin
Google+
Pinterest
VK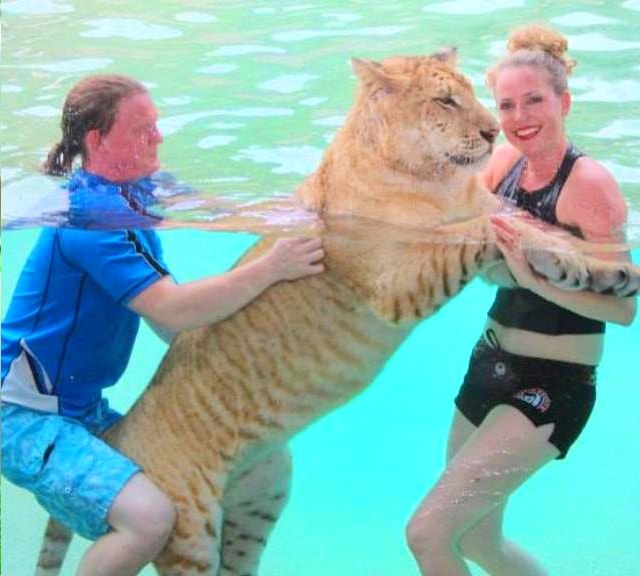 Moksha Bybee has appeared on many mainstream media websites along with her liger cubs. The very first time she appeared during 2010, when Aries the liger was born. The event was promoted by a lot of famous news media websites such as Daily Mail, Huffington Post, The News Australia and Global Animal Organization etc. One of the most interesting thing which Moksha Bybee mentioned about the liger cubs was that they grow at a rate of around 1 pound per day on average. Moksha Bybee was also featured in mainstream news media website when the world's first white liger cubs were born. Moreover; Moksha Bybee in 2014 has also appeared within Guinness Book of World Records, when Hercules the liger was declared as the biggest cat on planet earth.
f-Share
Tweet
Linkedin
Google+
Pinterest
VK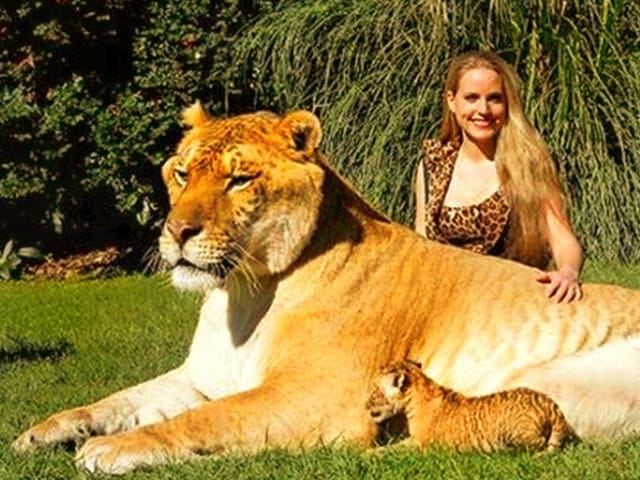 Moksha Bybee keeps in touch with animal lovers and audience through her facebook and Instagram webpages. With the help of these social media webpages, Moksha Bybee educate people about liger cubs and other exotic animals at Myrtle Beach Safari. She also keeps them updated about any upcoming development, any recent tour and even shares her latest interactions with the ligers. Moreover; she has also shared dozens of her pictures with the liger cubs as well. From the past year or two, she has been constantly sharing the pictures of white liger cubs. She is also educating people about the growth and big sizes of the liger cubs. She even shares her dedicated timings for the liger cubs i.e., meal hours, playing time, having a walk with the liger cubs and having a fun while swimming.
f-Share
Tweet
Linkedin
Google+
Pinterest
VK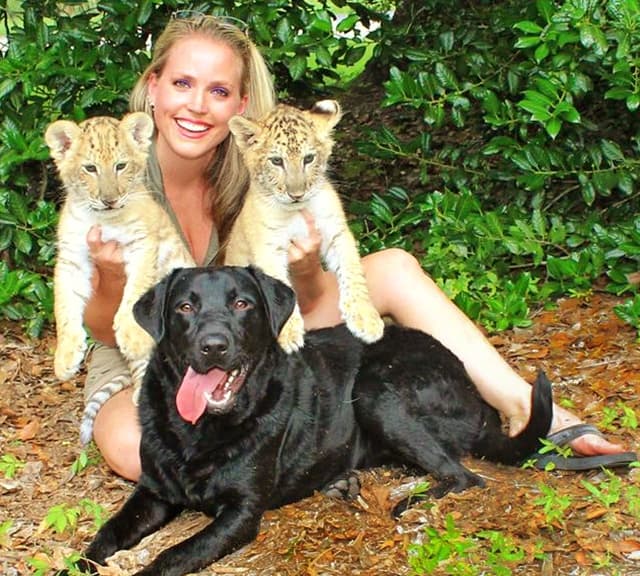 Author: Usman Masood
Published Date: February 12, 2017
Last Modified: February 12, 2017
Publisher: LIGER CUBS

Genre: Liger Cubs, Lion, Tiger, Cross Breeding, Hybrid, Panthera
Copyright Holder: © Liger Cubs - All Rights Reserved
Copyright Year: 2017