Liger Cubs in China
The first ever liger cub in China was born during the year 2002. This liger cub was born at Hongshan Zoo. This zoo is located at Nanjing city, which is located within the Jiangsu province of China. Unfortunately, that liger cub failed to survive and died 12 weeks later. According to the big cat experts living conditions of the animals in captivity matters a lot for the survival rate of the big cat cubs. Similarly; a liger cub was also born during 2004 at Hainan Tropical Wildlife Park but it could only survive around 100 days. Then in 2005; the real success story of raising liger cubs emerged, when 2 liger cubs were born at Hainan Tropical Wild Animal Park. The name of these twin liger cubs was Ping Ping and An An. Both of these liger cubs are still alive today (as of 2017) and they live at Hainan Tropical Wild Animal Park. Both of these ligers are the oldest surviving ligers in China.
f-Share
Tweet
Linkedin
Google+
Pinterest
VK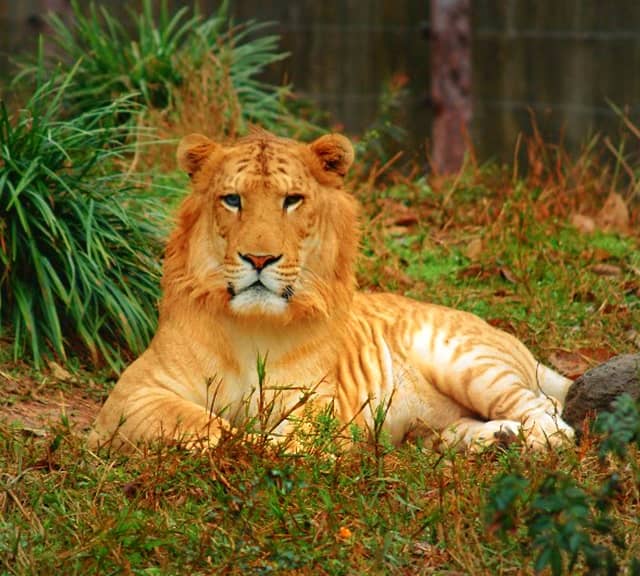 In 2006, at least 4 liger cubs were born at the same zoo i.e., Hainan Tropic Wildlife Park. Interestingly all the four liger cubs survived and they are still doing well at this zoo. And later during 2007, the same tigress at Hainan Tropical Wildlife Park gave birth to four liger cubs again. As a result of that this female liger gave birth to 12 ligers in total and out of which 10 ligers survived. This was the highest birth record for liger cubs for any tigress in the world and it is recognized and appreciated by all the global media and big cat experts in the world.
f-Share
Tweet
Linkedin
Google+
Pinterest
VK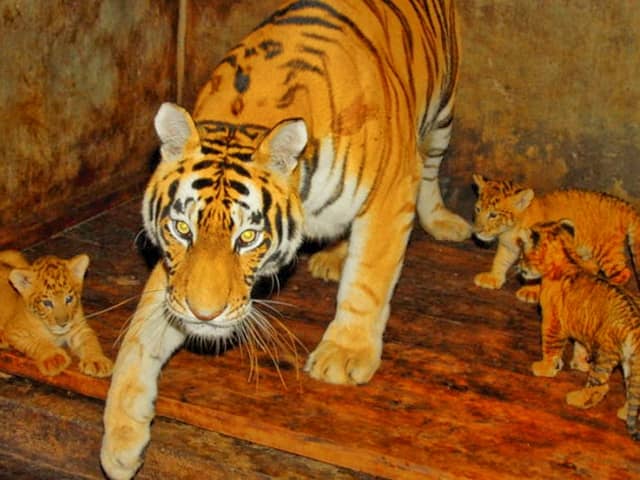 Liger cubs are reported to have their presence across 6 zoos throughout China. These zoos include Shanghai Wild Animal Park, Harbin Zoo in China, Hongshan Forest Zoo, Shenzhen Wildlife Zoo and Wuxi Animal Zoo in China. So far, we have counted at least 25 liger cubs from all the zoos in China. This count is based upon newspaper articles and one of the world's famous website about ligers i.e., www.ligerzoos.com. Half of these liger cubs in China were born at Hainan Tropical Wildlife Park, while rest of them belong to the other zoos. This makes China on the second spot in terms of liger population while USA is on the top spot with at least 50 ligers. It is possible that Chinese zoos may have more liger cubs in future because rules in China for raising liger cubs are far more relaxed than the rules in United States. The world's first liger cubs were born in India under British Empire in 1799. Despite having a reasonable presence of ligers, still many people in China do not know about ligers.
f-Share
Tweet
Linkedin
Google+
Pinterest
VK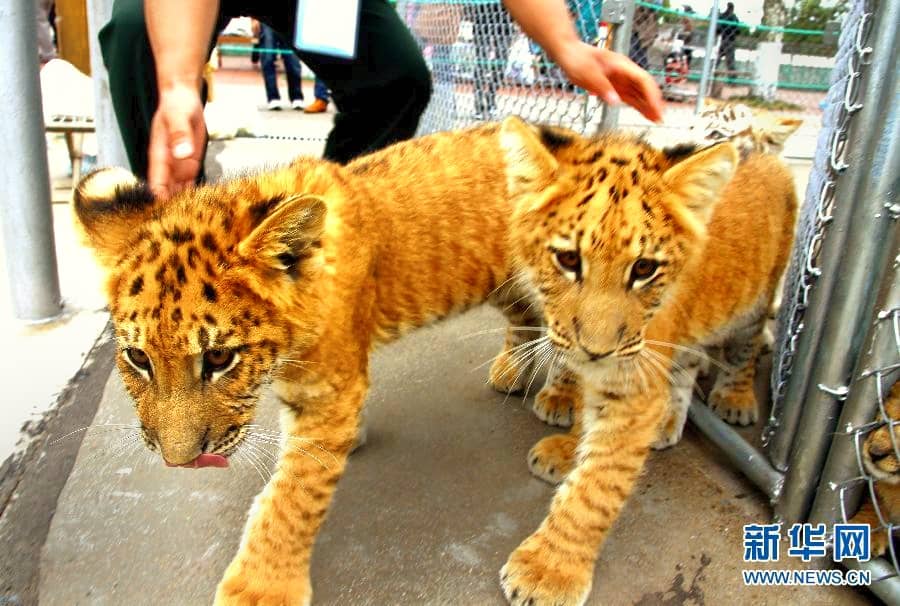 Xixiakou Zoo, which is located at Weihai in Shandong province, made a huge buzz in 2011, when a dog volunteered to feeding milk to at least two liger cubs. The liger cubs needed milk but their mother (tigress) refused to feed them milk. Because of this 2 out of four liger cubs died because of possible malnutrition. Luckily a female dog volunteered to feed them her own milk. She also gave births to her own puppies as well, therefore, while feeding she considered the liger cubs as her own as well. This event made huge headlines across the media centers, as it showed highest degree of selfless mother's love for the babies beyond walls of different genre.
f-Share
Tweet
Linkedin
Google+
Pinterest
VK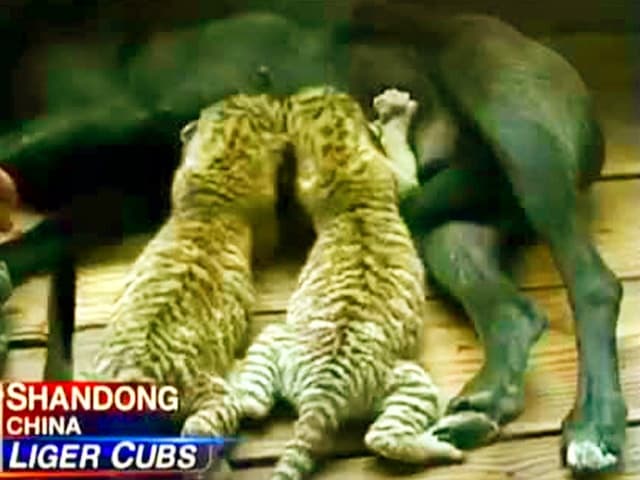 Unlike in Taiwan, there are generally no restrictions on breeding liger cubs in China. This is the key reason that more and more zoos in China are willing to breed ligers at their zoo premises. Each year there are always couple of instances where are a new litter of liger cubs is born in China. In some of the zoos in China, you can also feed a live animal to a liger or any other big cat as well. This practice is typically common in Harbin Zoo. You can buy a chicken and ask the zoo worker to toss it in the air (alive) as a food for a liger, tiger, lion or any other big cat at the zoo. Many animal rights activists have condemned this practice and they believe that animals should be given processed meat only. However; the proponents of this practice believe that such tactics help these animals to maintain their natural instincts of hunting.
f-Share
Tweet
Linkedin
Google+
Pinterest
VK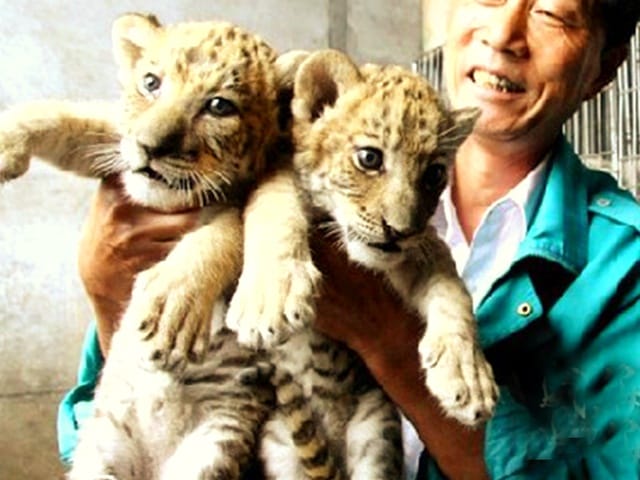 Liger cubs need a lot of care at the time of their birth. Even more importantly their mother also need a big care during the pregnancy time period as well. The zoo authorities should make sure that they give tigress the right and timely food, so that their mother stay healthy and the liger babies are free of any complications. According to the zoo experts, the lack of care, lack of facilities and living conditions are directly related to the survival rate of the liger cubs after birth. Therefore; Chinese zoos should also boost their facilities and living conditions for the big cat cubs, so that they can live a healthy life.
f-Share
Tweet
Linkedin
Google+
Pinterest
VK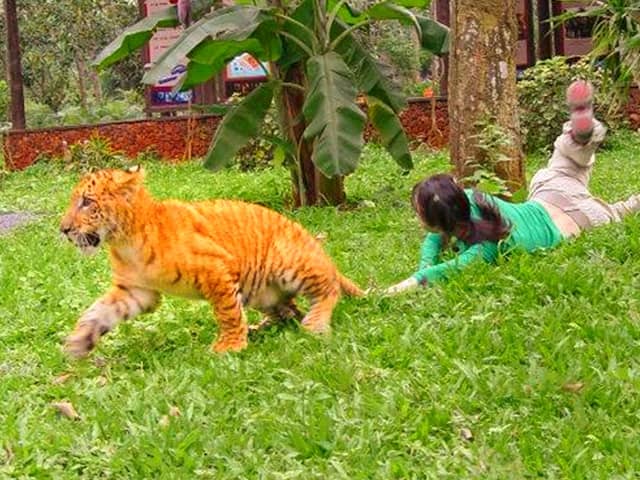 Author: Usman Masood
Published Date: February 12, 2017
Last Modified: February 12, 2017
Publisher: LIGER CUBS

Genre: Liger Cubs, Lion, Tiger, Cross Breeding, Hybrid, Panthera
Copyright Holder: © Liger Cubs - All Rights Reserved
Copyright Year: 2017