China York & Liger Cubs
China York has been actively associated with liger cubs since 2002. She has more than 15 years of experience of raising big cat cubs which also include liger cubs as well. She joins the list of very few female animal trainers who has raised liger cubs. China York works at Myrtle Beach Safari which is an animal Safari Park located at Myrtle Beach, in South Carolina, USA. Myrtle Beach Safari is famous for ligers and they also have world's biggest and famous liger named as Hercules the liger. China York has raised around 10 liger cubs in her life and all of them are still alive today. Apart from liger cubs China York has also raised tiger cubs, lion cubs, jaguar cubs, leopard cubs, caracal cubs, lynx cubs and even puma cubs as well.
f-Share
Tweet
Linkedin
Google+
Pinterest
VK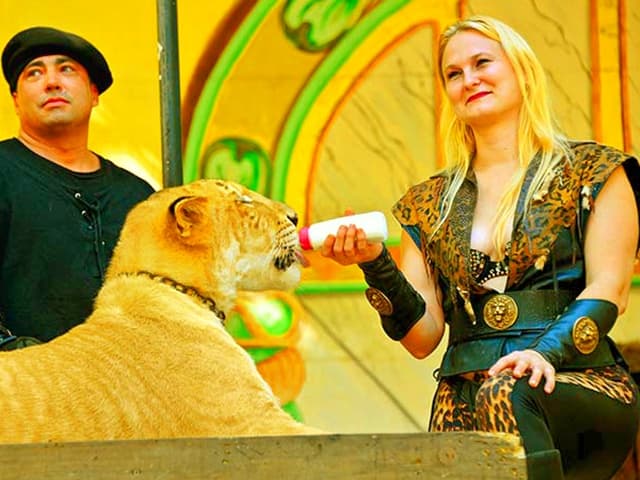 China York started raising liger cubs from 2002 onwards. At that moment, she raised four liger cubs whose names were Hercules, Sinbad, Vulcan and Zeus the liger. These liger cubs were born to a famous male African lion named as Arthur the lion. Arthur was also the father of previously famous ligers at Myrtle Beach Safari i.e., Samson and Sudan the ligers. China York has a lot of pictures with a litter of these liger cubs, when they were very small. She could be seen hugging and taking care of these liger cubs. Later after four years in 2006, when Hercules the liger grew up to become world's biggest cat, China York also appeared along with Hercules the liger within Guinness Book of World Records as well. As of 2017 all of these ligers are still alive today and they all weigh more than 900 pounds.
f-Share
Tweet
Linkedin
Google+
Pinterest
VK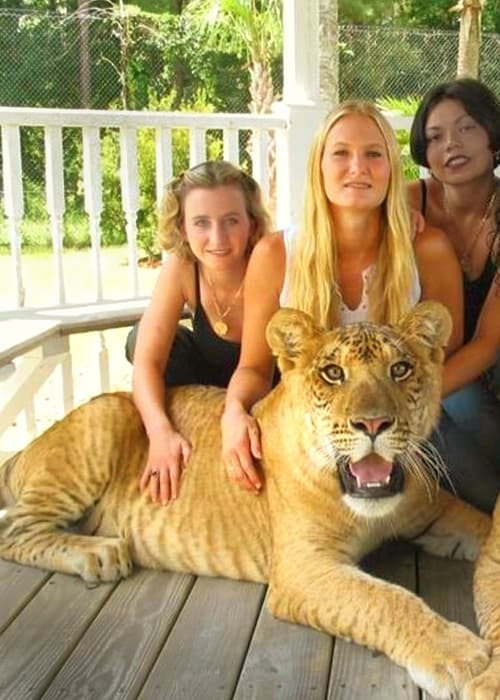 In her second experience, China York can be seen with a litter another four white liger cubs which were born in December 2013. China York's pictures with these rarest white liger cubs, were featured within famous news media websites such as Daily Mail and CBS News. This development allowed China York to be included among the list of animal trainers, who has raised one of the rarest liger breed i.e., the white liger cubs. It should also be noted that only the animal trainers at Myrtle Beach Safari has raised white liger cubs i.e., Moksha Bybee, Rajani Ferrante and Dr. Bhagavan Antle. A white liger cub is an offspring of a male white lion and a white tigress. There are only four white liger cubs in the world today. These white liger cubs had a very unusual light colored fur, when they were introduced to the general public at Myrtle Beach Safari.
f-Share
Tweet
Linkedin
Google+
Pinterest
VK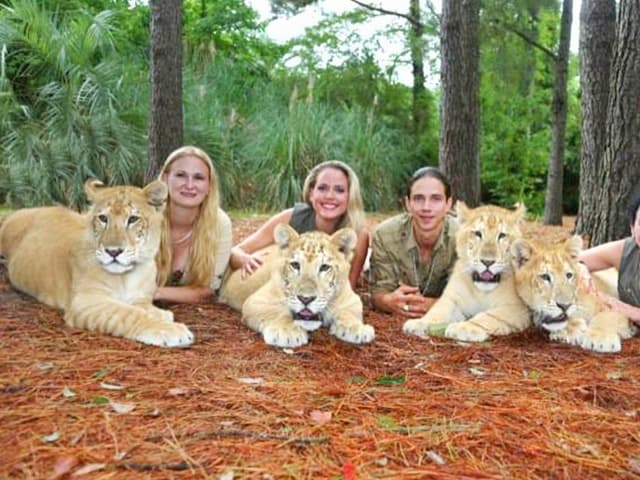 In a very special development, China York educated people about ligers while holding two white liger cubs at Jungle Island in Miami. Jungle Island is also a very famous place to watch ligers in Miami, USA. Vulcan the liger and Sinbad the liger both live at Jungle Island in Miami. NBC Miami gave a dedicated coverage to this event and China York along with her white liger cubs also featured within their news website. One of the liger cub was a male liger cub while the other one was a female liger. In the pictures, China York could be seen educating Miami School children about liger cubs. A Santa clause also accompanied school children on the stage. She even invited school children to come on the stage and let them hold liger cubs in their hands as well.
f-Share
Tweet
Linkedin
Google+
Pinterest
VK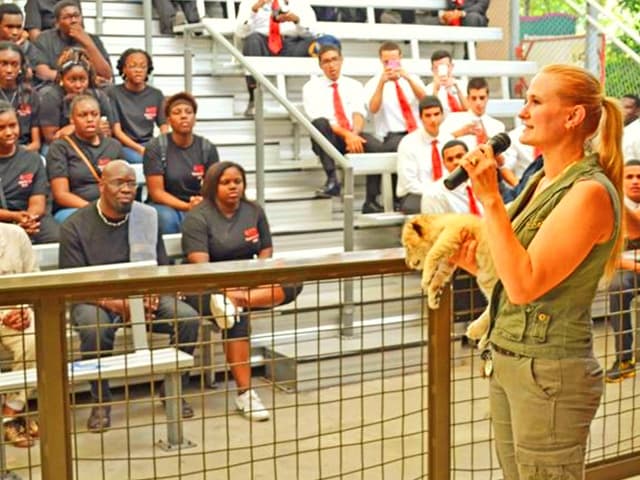 China York has also travelled along with her big cats and liger cubs. She is a regular visitor at King Richard's Faire which is some kind of seasonal cultural faire, representing ancient royal norms and behaviors of a royal family. China York at this event always features at Tales of the Tiger show which displays exotic animals. She appears as an animal trainer and interacts with a lot of big cats in front of a huge audience. In one of the show during 2014, she also interacted with a liger cub. She has always featured with Hercules the liger in this event as well. She also educates people about big cats, ligers and liger cubs at the Show of "Tales of the Tiger".
f-Share
Tweet
Linkedin
Google+
Pinterest
VK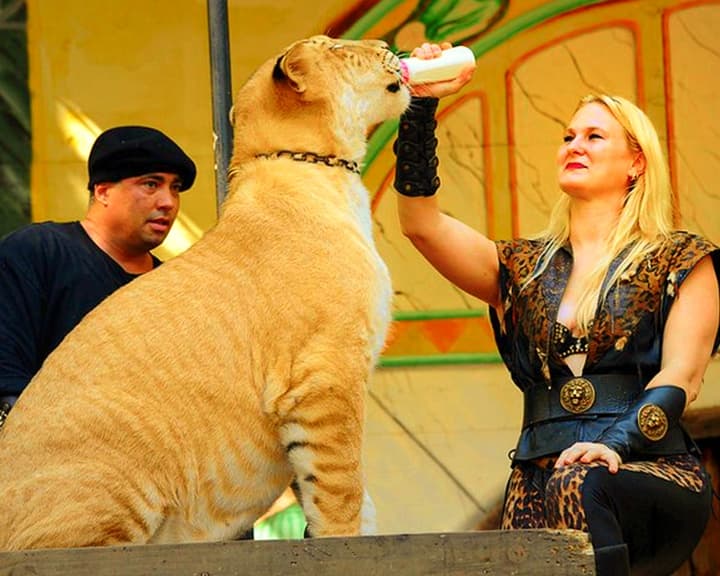 China York is a dedicated animal trainer who, devotedly take care of the liger cubs. She regularly takes care of their food and meals. She makes a deep and profound interaction with the liger cubs. Such interaction allows her to shape-up the future behavior of the liger cubs when they become adult ligers. China York also trains them about, how to swim and play in water. Liger cubs naturally develop love for swimming right from the early days of their birth. Swimming serves as an important physical activity for the ligers and it helps them to stretch their muscles to the maximum extent as well. Such activities are especially good for the captive big cats, who do not have a huge habitat to move around. However; at Myrtle Beach, China York and her team regularly conducts quick sprints for the big cats to measure their speed and acceleration. She can also be seen hugging, cuddling and kissing her liger cubs which creates a special bond in between her and the liger cubs.
f-Share
Tweet
Linkedin
Google+
Pinterest
VK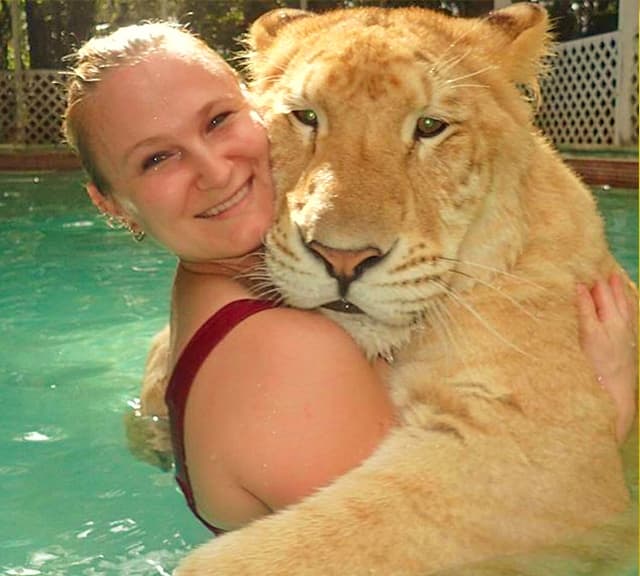 Author: Usman Masood
Published Date: February 12, 2017
Last Modified: February 12, 2017
Publisher: LIGER CUBS

Genre: Liger Cubs, Lion, Tiger, Cross Breeding, Hybrid, Panthera
Copyright Holder: © Liger Cubs - All Rights Reserved
Copyright Year: 2017